Album Review: Jeezy-Seen It All
Artist: Jeezy
Title: Seen It All: The Autobiography
Lead Single: Seen It All
Twitter: Twitter.com/YoungJeezy
Production:
Writing/Lyrics:
Hooks:
Originality:
Content:
Vocals/Delivery:
Out of every music genre, rappers have arguably the shortest shelf life amongst musicians.  For what many consider to be a young man's game, the ability to remain on top and to sustain a high level success late into a rap career is a feat that many strive for, but few actually accomplish. With over a decade in the game, Jeezy has steadily maintained his status as one of the most influential figures in southern hip-hop.
While most fans were introduced to Young Jeezy back in 2005 with Let's Get It: Thug Motivation 101 exploding into the raposphere, its been 13 years since the then titled Lil' J crept on the scene with Thuggin' Under the Influence. With two platinum records, some of the biggest singles in the last decade and over a dozen mixtapes, Jeezy releases his seventh studio album, Seen It All: The Autobiography.
Dropping the prefix "Young" from his stage name about a year ago has proven to be an appropriate decision for this album because the now 36-year-old rapper is far from a young man. This fits the theme for Seen It All: The Autobiography as the Snowman takes the O.G. approach to this album, recounting the highs and lows of the drug game, dropping the knowledge of a grizzled veteran and providing that all too familiar street motivation he's been able to hang that Atlanta Braves hat on his whole career.
If one song embodies the story telling spirit it's Seen It All, the title track and second single off the album. With a feature from Jay Z, it carries this vibe of Don Corleone and Tony Soprano chopping it up at the round table, two former soldiers now sitting at the top. Interestingly enough, the Cardo produced track was originally meant for Big Sean, but after it was accidently sent to the Snowman, Jeezy had to have it. Sampling Twilight, a song from Japanese artist Tazz, the combination of Japanese flutes with a heavy bass and claps, combines two totally different sounds that create this sort of mystic atmosphere that purports this boss status of the two veteran MCs.
"Still the realest nigga in this, ya'll know it/ Kept it one hundred 'til the day I came through/ My nigga hit me up saying 'going out of town'/ So I threw him fifty thou, told him 'bring me back two'/ Not only had my fingers crossed, I prayed/ Called this little piece up, got laid/ The he walked in, threw them both on the table said/ 'Fuck that shit, young nigga get paid.'"
Arguably one of the strongest efforts on the album, Seen It All also contains this revealing aspect into what diminishes the strength of this album. While the album does a lot of good, for something titled as an autobiography, in many instances, it does not dig deeper than the surface, evident of Hov having the stronger verse on Seen It All. Maybe it's an inherent East Coast bias, but what took Jay's verse a step further is the story he told about his drug dealing days with Emory Jones. Jeezy still breaks things down and shares plenty of knowledge, but his bars are as about as revealing as a stripper in a trench coat. He struggles with this balance as he's got glimpses of greatness that take this album to another level, but the generic nature of some of these tracks seem to bring it back down.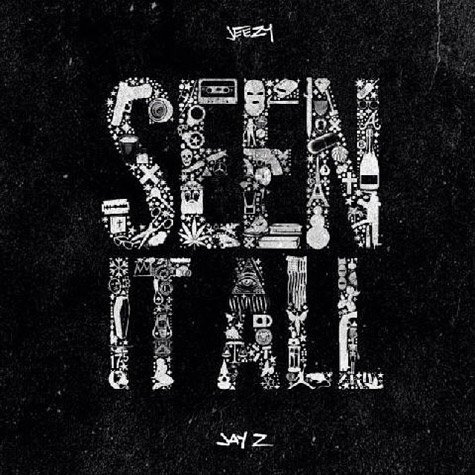 At just over a minute and a half in length, Win Is A Win is the shortest track on the album, but has the most to say as it provides the most introspective look into his life. Stating his mission, Jeezy raps, "I hope my words they inspire, spoke like a true leader/ The first to admit life is more than two seaters/ Man, oh man, how my priorities fucked up/ Remember nights of passing out in the Rari too fucked up." He highlights well the peak moments in his career while tempering the highs with the lows and all the while dropping poignant street philosophy.
How I Did It (Perfection), the closing track, offers inspiration over a soulful beat, which purports the feel of an autobiography and having Boosie on Beez Like was one of the best features on the album as his shared experience continues to provide authenticity. That being said, there's a portion of tracks that oppose these feelings, which create a temporarily tumultuous sonic experience. Enough has a juvenile chorus, which feels uninspired, as four minutes of that track is much more than enough. The Future assisted No Tears has an awkward pace to it and the feature would have done much better on 4 Zones, a track on the deluxe edition, which has Jeezy strangely singing the chorus in auto tune. Been Getting Money has him teaming up with Akon, which restores fleeting feelings of Soul Survivor, but struggles to recapture that same magic, falling a little short.
In typical Jeezy fashion, he's got plenty of things for fans to gravitate to. Signature hard-hitting and drum heavy baselines thump throughout this album, which congeal to his motivational bars, culminating into the exhilarating pulse pounding nature of his chest thumping bravado. The standout example of this is from Me OK, the first single off the album in which Jeezy raps, "when L.A. Reid was in office, made some history up at Def Jam/ If Jizzle ain't droppin', nigga, what the fuck is Def Jam? / I know you heard how your boy bossed up at Atlantic / Boss shit, might just drop my next album on Atlantic."
For something that was professed as a narrative, Seen It All: The Autobiography falls short of something that had an opportunity to accomplish more. Conceptually, the idea of the album could have taken the experience to a new level, revealing a whole new aspect to Jeezy and while it did tell some great stories and gave us some strong singles, it did not do as much to differentiate itself from his previous work.
-Review By Carmine Colangelo
overall Ratings