Mixtape Review: J Cole & Dreamville-Revenge Of The Dreamers
Artist: J Cole, Dreamville
Title: Revenge of the Dreamers
Website: www.dreamvillain.net/blog/
Production:
Writing/Lyrics:
Hooks:
Originality:
Content:
Vocals/Delivery:
What do you get someone for his 29th birthday? A coffee maker? Some new ties? A subscription to Men's Health? How about a concert at Madison Square Golden, a partnership with Interscope and a chain from a living legend? Well, if your name is J. Cole, that's how you kicked off the final year of your twenties. Cole brought out both Kendrick Lamar and Jay Z for his performance at MSG and made it a night to remember. Hov gifted his Roc Nation signee with his original Roc-A-Fella chain, a sentimental and priceless piece of history. Jermaine finally had his chaining day.
It was an unforgettable night for J. Cole, but it wasn't all about the birthday boy. He also announced that Dreamville, Cole's imprint, has just signed a partnership with Interscope, the same label that produced both Cole World: The Sideline Story and Born Sinner. To celebrate, he released Revenge Of The Dreamers, an 11-track mixtape featuring him and the rest of the Dreamville squad. In a night with all these presents, we get a gift ourselves. But is Revenge Of The Dreamers as good as getting Hov's chain? Or is it more like that itchy-ass wool sweater your Grandma got you?
Cole starts the tape off with the Lil Niggaz (Snippet) in which the Dreamville front man drops a few bars over Tupac's Ambitionz Az a Ridah. A classic beat demands a classic verse, but in the 52-second intro we don't get something close to that depth, more of an "I'm back" type of statement. "See now it was once fuck me, now it's fuck you/ Clearly now you hear me." The warm up for Revenge Of The Dreamers has the right intentions, but it's the beat selection that truly keeps the boat afloat.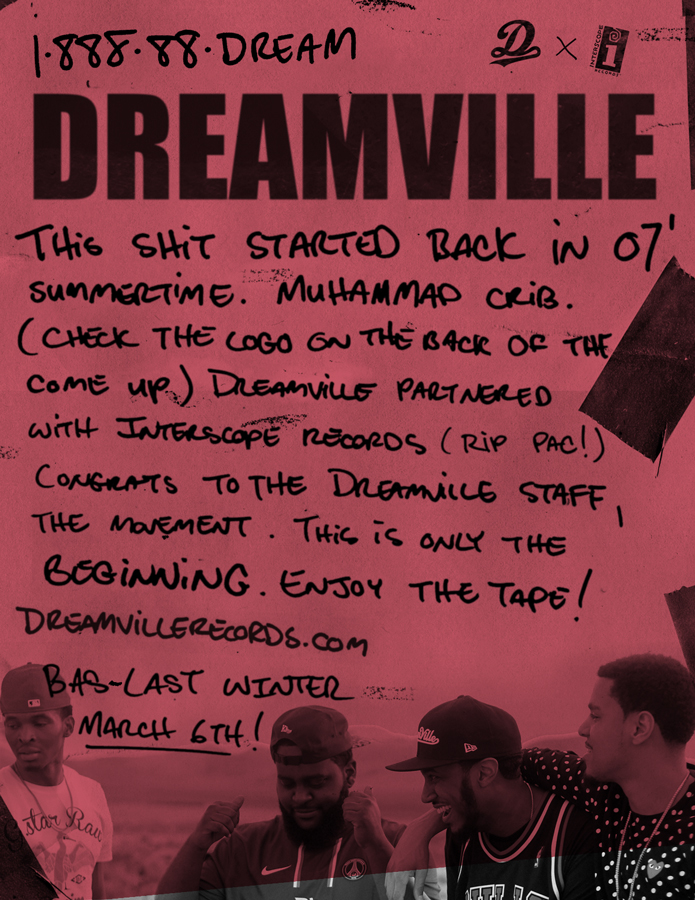 Jermaine sets the table for his crew, as Revenge Of The Dreamers is an introduction to the Dreamville squad. Next up is Bas, who opened for Cole on his What Dreams May Come Tour. Spending all that time with J. Cole has certainly helped with his progression as the up and coming Bas' masks his newcomer status with a veteran sound on Golden Goals. "From the city where niggas turn a penny to a twenty/ But when a penny turns it turn friends into enemies and semis turn urns into memories/ Lick shots nigga burn like the Hennessy/ This city got problems, this city so godless, I watch it all burn like it's heresy/ Witchcraft for your bitch ass."
Next up is Omen, a name J. Cole fans will remember from his 2009 breakout tape, The Warm Up. Stylistically, Omen fits the Dreamville mold, as his lyrics generally provide introspection and honesty. It's a style that mirrors J. Cole's, but has come a long way since The Badness. On Motion Picture Lyrics, Omen uses his words to paint a picture, which is a credit to his ability to use audio for visualization. His flow fits nicely over this beat, which contains a slowed drum line similar to Nas' I Can.
"I'm second guessing every effort, every sentence/ Does my breath need less inflection, am I being too reflective?/ Is such and such really better? Is my message even clever?/ I'm apprehended by this pressure, but shall I surrender?/ I look at my own team like damn, I wish it would help me more/ That's no diss, just being honest, already pressed record."
The aforementioned lyrics stand as a representation for a majority of the mixtape's material. Introspective lyrics exposing some of their deepest fears, like in Lit when Cole raps, "another shot of Henny so I'm faded askin' how long do this drug called fame be lasting?" Combine that with relatively sharp storytelling of struggling to reach your dreams is what makes Revenge Of The Dreamers a wholly relatable selection of music. These doubts, fears, dreams and wishes are just a much a part of their lives as it is ours. It has the feel of some of J. Cole's early mixtapes in both its vibe as well as a mirrored mellow beat selection, which is complimented nicely by his fellow dreamers. However, echoing a lot of Cole's detractors, Revenge Of The Dreamers, packs a punch like Stephen Hawking's haymaker when it comes to raising the excitement level.
Towards the end of the tape we meet Treasure Davis in May The Bitter Man Win. Treasure Davis, an up and coming vocalist, adds an extra dimension to the crew as her pain deluges through her delivery, putting emotion behind every note. But Revenge Of The Dreamers isn't all just pain, struggle and self-analysis. Dreamville gets loose, evident of Omen's heem inspired Henny Flow and Cole's Bitchez, "Born broke I'mma die rich/ Steve Jobs of the projects/ Pete Rock with a South twist."
Included at the end of the mixtape is the original version of Crooked Smile, the first draft of his certified gold single off of Born Sinner. Apart from sharing the same opening verse, the original is quite different from the contemporary version. Sans TLC, Cole is the only one on this track, putting the focus more on his story rather than a catchy hook and guest vocals. The second verse finds a 17-year-old J. Cole killing a nameless rapper in a battle, until his opponent drops the bomb, "you ain't So So Def, your teeth just got Jagged Edges." Now that's some tooth related humor witty enough to make your dentist laugh. Much like the current version, the original continues the running metaphor of physical imperfections, but the original focuses more on how it hurts him emotionally, compared to the generally upbeat and inspirational tone of the radio hit. A solid track nonetheless, but the change in the beat, lyrics and the addition of TLC was necessary to transform a good song into a hit record. Rest in peace Lisa Lopes.
As an introduction to Dreamville, Revenge Of The Dreamers works well as a warm up, but it feels more like a light jog than a 100-meter dash. It's honest, it's thought provoking and generally clever, but it stings like a bumblebee. It shows a lot of potential and lyrically it's pretty sharp, but its unassuming nature rescinds any auditory aggressiveness.  It's far from a nightmare, but nothing for fellow dreamers to lose sleep over.
-Review by Carmine Colangelo
overall Ratings